Our Earth has had a lot of volcanic activities beneath the surface but not all the earthquakes cause damage. Hence it is necessary to briefly understand the real phenomenon of earthquake. Besides, in earthquake facts for kids we'll see those countries or cities that have been struck by any underground eruption and the damage it causes to their livestock and human life.
Some Horrible But True Earthquake Facts For Kids 
Earth quakes pose significant danger to almost seventy five million people from a total of thirty nine states all over the world.
The Western America has the maximum danger of falling victim to earthquakes especially California.
In March 1964, Alaska had a highest earthquake ever recorded in the history of USA.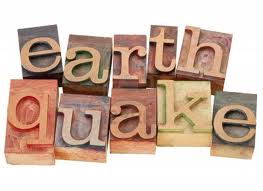 Image Courtesy of Soundofheart.org
In California there is a terrain that changes its position with two inches every year (San Andreas Fault). This speed is equal to the speed at which the fingernail gets bigger.
When earthquakes come beneath the ocean waters, they bring about tsunami.
There are nearly five hundred thousand (500,000) earthquakes that shake our planet every year.
More Earthquake Facts For Kids
Surprisingly, out of these 500,000 earthquakes, very nearly hundred earthquakes bring destruction.
The greatest number of earthquakes that any state of the world receives is Alaska.
There had been 4 states of USA that received zero earthquakes within a span of 20 years (1975 – 1995) viz. Wisconsin, Florida, North Dakota, Iowa.
The machines that are designed to evaluate the intensity of earthquakes is known as seismographs.
The damage as well as the power of the earthquakes in rocky terrains is less as compare to the smooth surfaces.
Back in 1556, the North of China struck with the most deadliest earthquake in the history of the world by slaughtering nearly 830,000 people.
A Richter Scale is a device that gauges the magnitude (the energy it generates) of the earthquake. It was originated by an American geophysicist named as Charles Francis Richter.
According to a Richter scale reading, earthquakes of over 5 magnitude brings about destruction.
The earthquakes of over 8 magnitude annihilate the entire area and these earthquakes come just about 3 times every year.
In March 2011, Japan had the 5th most lethal earthquake in the history of the world with a magnitude of 9.
With a Richter scale of about 2, every day our Earth has almost 8,000 earthquakes but since their intensity is too low so we cannot experience them.
I hope you'd have got some understanding about quake in earthquake facts for kids but if there is any fact that I've missed and you like to share with us, we would be more than happy to  incorporate it. Thank you for reading it!