If you don't already own an instant pot at home, you've probably heard your friends or family members raving about them, especially people with young children. Taking care of kids, especially if you are trying to juggle another job at the same time can cause a lot of headaches. However, there are plenty of modern appliances readily available that can make your life that little bit easier.
Most moms will welcome a new kitchen appliance with open arms if it is going to make her life easier. Mothers around the globe have been praising their instant pots since they first arrived on the market a little over decade ago. When they first hit the shelves, many felt that instant pots were just a fad, like other appliances that seem to come and go, but they have been growing in popularity ever since 2010.
Cleaning is Quick and Easy
After spending your evening helping with the kids' homework, preparing a nice meal, hovering over a stove to make sure the ingredients are cooked properly, you then have to clean up after everyone.
Unfortunately, an instant pot doesn't have a self cleaner (one of the only features it doesn't seem to have), but cleaning up after is a breeze. You can place the device's body into the dishwasher, and hand wash the lid. It will only take you a minute, which leaves you with some spare time to get on with your other choirs. You won't have to spend thirty minutes scrubbing grease off the device, unlike other traditional cooking equipment. Who knows, you might even get some downtime to yourself!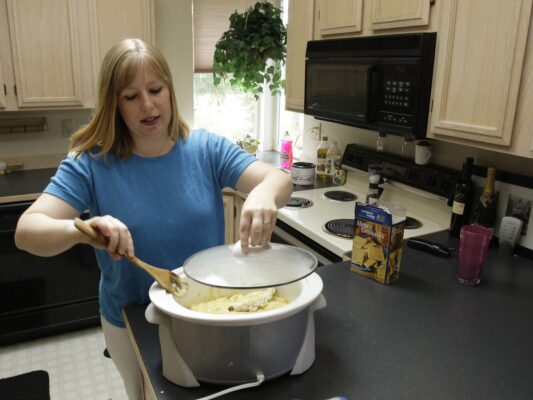 They are Safer than Standard Pressure Cookers
Most pressure cookers are cheap to buy, but the problem homecooks face, especially those with a family, is the dangers they can cause. Nobody wants a cooking appliance in their kitchen which can injure someone.
Pressure cookers have a reputation for being unsafe and finicky. Instant pots on the other hand have a range of safety features installed to ensure you and your family members in the kitchen are safe. These safety mechanisms will help you sleep at night, as you won't have to worry about the device exploding anytime soon. Unlike conventional non-stick surfaces, instant pot's consist of stainless steel. Non-stick surfaces can often lead to food poisoning, which is a major safety concern for moms who are feeding their loved ones.
Another issue a lot of moms have come across when using a pressure cooker is the whistling noise it tends to make when it releases pressure. The loud noise can scare a young child, which is the last thing a mother wants to hear while she is in the middle of cooking dinner.
Instant Pots can Help You Make Tasty Desserts
Every mother wants to treat their family with deserts now and again. The device allows you to make the following:
Pies
Cakes
Savory Dishes
Bread
Homemade Yogurt
Some moms buy two separate instant pots, one for making dinner and the other for cooking desserts. If you are hoping to make nutritious yogurts with an instant pot, try to find one that has a yogurt button. This feature will help you create yogurts for all the family in a short space of time.
Homemade Wine
After another long day, sitting down sipping on a well deserved glass of wine is well deserved. But instead of buying your favorite bottle of wine from the local alcohol store, why not make your own with your trusty instant pot. Unlike cooking food with an instant pot, making wine can consume a lot of time because you will have to wait for it to ferment. If you can remain patient, your instant pot will do all of the hard work needed to make nice wine. Before you start to make wine, make sure you have the proper ingredients in your kitchen, including wine yeast.
You Won't Need Cookbooks
Most mothers have invested in cookbooks that they never use. Thanks to the world wide web and the popularity of instant pots, the internet is packed with different recipes. If you are looking for new things to cook for your little ones, go via Corrie Cooks. Parents will have a wide range of different cooking options to choose from, many of which are tasty and healthy. Some kids are fussy eaters, which can cause all sorts of headaches for moms. An instant pot will help mothers prepare and cook delicious healthy meals for those who don't have a big appetite. In many households, this multifunctional cooker could prove to be a big gamechanger.
Conclusion
Kids can cost a family a fortune, especially when it comes to dinner time. There are plenty of instant pots out there that cost $100 or less, but in the long run, they could save you a lot of cash. They consume very little electricity, they can help you reduce the amount of food waste, and you won't have to spend money on a new slow cooker, a pressure cooker, a yogurt maker, the list goes on. Some mothers who are still bottle feeding their babies use instant pots as a bottle sanitizer too! Is there anything the appliance cannot do? Because they are energy efficient, they can save you a lot of money on utility bills.