An average middle-class African-American with some extraordinary potential, Luther King lives in a time when racism and hatred among black and whites are on the rise. But King emerges as the glimmer of hope for the Afro-Americans (who were by now in a miserable state) and fights for their equal rights. To start with, he opens his eyes in the house of clergymen in Atlanta and under the strict command of his father (Martin Luther King Sr.), he remains as a disciplined child. He loves Mama Williams (grandma) too much, who is a kindhearted woman and often gets upset while seeing Daddy King whipping Luther King Jr. As she passes away, her death comes as a great shocker and for a time he feels as if he is the cause of her demise as he is also her favorite child. Though he's always been a lively child and fancies playing baseball and basketball with his pals yet he faces a setback when his white mate leaves him on account of racism. In his early years, he realizes that his complexion makes him inferior to others but his parents cheer him up with the Golden Rule of Jesus.
Later on, after graduating from Morehouse College, he leads a historic march toward Washington with nearly 250,000 nonviolent troops and delivers a speech "I Have A Dream" that afterwards becomes the hallmark of Martin Luther King. Inspired by the non-violent activism of Mahatma Gandhi (India), King has always had a strong conviction that the strength of love and non-violent means of protesting are the only ways to raise your voice. Who knows, that an African-American would stand up one day for the rights of Negroes and swing the pendulum to his way with the power of love. King was truly a leader, thinker and a man of high moral character who shaped the history of America forever.
Interesting Facts
When Luther King was born, at the time the surgeons thought he was lifeless since King neither moved his feet nor hands. But after several heavy whacks on his lower body, the King began to weep and thus a silent beginning to his tedious life.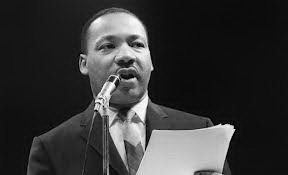 King had a white mate (of his own age) when he was around 3 years of age. But when both of them turns to 6 years, King is shaken up by the sudden end to their friendship as his white friend's parents told their son to stay away from black kid (King). Both of them would go to separate schools segregated on the basis of black and white thereby creating discrimination from the word go. King feels great anguish over this one-sided treatment with black South Americans. Going forward, King asks his parents about this breaking up and they tell him about the racial discrimination. By now King didn't know any such favoritism but the end of his friendship creates hostility in the King's mind against whites though his parents always teaches him to love everybody (including white).

While he is just five years old, King signs up to a cathedral along with his sister. According to him, church becomes his second home afterwards.

The officially authorized name of Mike until he was 6 years old was "Michael Luther King". Later on his father changed his own name as well as his son's from Michael Luther King to Martin Luther King due to the admiration of a German activist who was the prime mover of Protestantism in 1500s.

At the age of 5, Mike (nickname of M. L. King) crams most of the chapters from Bible and rattles off long paragraphs of Bible quite easily. He sings lots of hymns in the cathedral while Mama Williams supplements him with piano.

King is so emotionally attached with her maternal grandma (Jennie Celeste Williams or Mama Williams) that when she passes away in Spring 1941, the distressed child goes uphill and leap from a window of his house (from the second-story). Though he has had some bashes on his face, but doesn't receive any severe injuries. Actually, at the time King ran off to see the march past with no thumps up signal from Mama Williams. So he thinks he is guilty of his grandma's demise as God penalized him for leaving the house without approval.
Luther King Sr. also known as 'Daddy King' (son of sharecropper) is really a man of high convictions and he whacks his child (Mike) with a leather belt when Mike goes off the rails at times. But Mike is an obedient kid and while weeping he often goes to his grandmother, Mama Williams.

During his two years at school from 1940 to 1942, though he obtains decent marks in most subjects but he fails in the subject of social studies.

Mike loves riding bicycle, flying colorful kites in the air and playing baseball game with his pals. Likewise in his teen years, he also likes listening piano music and fist fighting.

From the very beginning, King loves reading books about African history particularly the stories of Harriet Tubman and Frederick Douglass, who broke out from slavery during 1800s.

In his initial years, Martin King once says to his father that he is looking ahead to become an attorney or a doctor. But later on two ministers of Morehouse inspire him and he vows to become a minister one day.

Martin Luther king has always been a neat and clean child; always dress up and comb his hair properly.

On account of his hard slog and brilliant performance in schooldays, the King's parents once awarded him with a spanking new Chevrolet car.

While he was a teenager, his pals used to call him as 'Tweed'. Why? Well, Because King would often spend lion's share of his income from selling Atlanta Journal on his costumes and had a stylish personality too.

Martin also loves to sing and dance but Daddy King doesn't like his son involving in dancing activities. Hence Martin has to say sorry (for dancing) before the flocks of Ebenezer Baptist Church as his father tells him to do so.

Like many other Black American children, King also hands out

Atlanta Journal

in order to raise some money.

In the early years of his childhood, Mike often grapples with his brother, Alfred Daniel (A. D.). Once A. D. banged a baseball bat to Mike and in other event Mike hit his brother with a telephone bumped on his head.

Gloria Royster was the king's girlfriend with whom he used to go out for a date at Spelman.

King has always been an inquisitive child and while initially he doesn't cast doubts on the biblical teachings, this attitude cannot continue for too long. Hence as he turns into 12 years, questions begin to arise and soon after renders his teachers (Sunday School) speechless with his difference of opinion on bodily resurrection of Jesus.

At the age of 14, King takes a trip from Atlanta to Dublin (Georgia) along with his teacher Mrs. Bradley to join in a competition. He wins the debating competition on the topic: 'The Negro and The Constitution'.

While on his way to home (from Dublin to Atlanta after winning the competition) along with his teacher Mrs. Bradley, few white passengers enters the bus. As they move in, the driver instructs both (King and Mrs. Bradley) of them to drop back at the rear seats. At first, King doesn't follow quickly so the driver uses foul language but Mrs. Bradley tells the King to follow the law (Jim Crow Laws 1876 – 1965). Hence Mrs. Bradley and King steps back, get to their feet and covers the journey of 90 miles in a standing posture (probably because there is no vacant seat behind). At the time King was just 14 years old and King said it was the most furious moment in his life and that he would never put behind him!

King leaves his family behind in Atlanta when he is only 15 years of age and set out for Connecticut (Simsbury) tobacco farm with 107 schoolboys. King along with other students (both black and white) goes to work in fall so in order to meet academy expenditures. He also writes a letter to his father saying 'on his way there he witnesses some things that he had never expected to see. As soon as they pass Washington, they do not see any prejudice and white people there are very kind. They are free to go anywhere they want to and sit anywhere they like.'

Luther King was truly a gifted child from the word go as he skips 9

th

grade as well as 12

th

grade. As a result, he never graduated from high school and while he is just 15 years of age, Morehouse College applauds his arrival. The very college from where his father and grandfather also finished their studies.

Before the time at Morehouse College, not once in a 12-month period did King manage to study for over 3 months.

Walter McCall is one of the earliest fellow students of Luther King and both friends are poorly off. McCall is even poorer than King and while he raises some money through becoming haircutter, once both of them comes to grips with each other. But later on, they turn out to be intimate friends and people start calling them by the names of "Mac and Mike".

According to a letter written by him to his mother (Alberta Williams King) in October 1948, King used to receive five dollars per week from his parents.

Ebenezer Baptist Church has been his ancestors' cathedral wherein both his grandfather as well as his father was ministers. Besides, King also gives a lion's share of his early years to this very church. That's why National Park Service has now preserved the cathedral as a historical place from 1999.

At the age of 25, King develops into a minister of the Montgomery Cathedral known as Dexter Avenue Baptist Church.

After King walks down the aisle with Coretta Scott in 1953, the couple fails to find a single hotel in Marion (to spend a night) who would accept African Americans. So they have to resort to the funeral parlor of one of king's friends. Later on, it becomes a practical joke and King would often enjoy remembering that night with his wife.

As he turns into a head of the new association in December 1955, King prepares his maiden speech (as a leader) within just 15 minutes (he was given only 20 minutes to gear up for the address but he loses his first 5 minutes in praying to God) which afterwards becomes the pivotal speech of his lifetime.

On September 20, 1958 while Dr. King puts his signatures in the New York City's Store for his recently published book entitled 'Stride Toward Freedom', an African-American lady (Izola Ware Curry) shows up. After asking Dr. King's name, she stabs him on the upper body. By chance, he gets away this time as he is rushed to the hospital right away and feeling okay after his 3-hour surgical treatment of aorta (the biggest artery in the human body).

The peaceful campaigning of Mahatma Gandhi becomes a source of inspiration for Luther King. Hence in 1959, King (along with his wife) pays a visit to the hometown of Mahatma Gandhi in India.

Though king does not stand up for any political party whether it is Democratic or Republican but he gives his vote to John F. Kennedy (Democratic candidate) in the 1960 elections.

As the demonstration takes the next step, so are the bullying mails and telephone calls pressurizing the king's family. Sometimes there are 30 to 40 intimidating messages per day warning them to stop their protest.

On 28 August, 1963 Dr. King gives a historical lecture "I Have A Dream" and the speech continues for about 17 minutes. In this epic address, he emphasizes to finish off prejudice and favoritism on the basis of race or color.

Every year in January 21, America praises Dr. King by announcing public holiday and this day is known as Martin Luther King Jr. day.