Located on the dock of the most densely populated Australian city, Sydney Opera House is a venue for various art performances. The natural harbor of Sydney where this building is situated is known as Port Jackson and this location is referred to as Bennelong Point. It was constructed by a Danish architect namely Jørn Utzon. Apart from art performances, this venue also hosts formal ceremonies. The venue features eating places as well (like snack bars, café) and a studio for recording. Next to this glorious architecture, there lays another dazzling structure known as Sydney Harbour Bridge. In order to facilitate the visitors, specially arranged tours are also available that allow them to have a good look at different places of this venue.
To learn more interesting facts about the Sydney Opera House and its history, continue reading this article. And in case you need help writing your paper about this magnificent piece of architecture, consider hiring essay writers from a professional writing service.
Name of Architect: Jørn Oberg Utzon
Total Cost: $102 million
Official Date of Opening: October 20, 1973
Area covered: 4.4 acres (1.8 hectares)
Length: 183 meters
Width: 120 meters
Number of tiles: 1,056,006
Declared World Heritage Site (UNESCO): June 28, 2007
History
On September 13, 1955, a competition was held for the design of Opera House. The architects belonging to 32 countries submitted about 233 different designs for Opera House.
Utzon received prize money of £5,000 for his design of Opera House.
The name of the Premier of New South Wales who gave official permission to build Sydney Opera House is John Joseph Cahill. He gave this approval in 1958.
The construction of the upper podium of Opera House was started in March 1959 and ended on February 1963.
The outer shells of the structure were started building in 1963 and until 1967.
The construction of interior of Opera House began in 1967 and ended on 1973.
In 1966 when Utzon ran out of money, he finally gave up his job on February 28. The new premier of the state Robert Askin was not in favor of Opera House project.
After Utzon walked out, another architect named Peter Hall took on the job of completing Opera House. He was assigned to the job on April 1966.
The Queen of Australia named Elizabeth II officially unveiled the Opera House in October 20, 1973.
Physical Description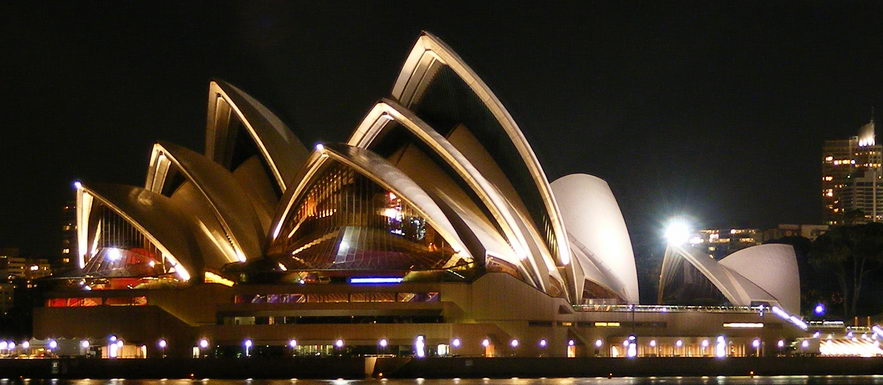 It is located in a state of Australia known as New South Wales. Sydney is the capital city of this state.
The two different colors of tiles used in the structure are 'matte cream' and 'glossy white'.
The Swedish company that made tiles of Opera House is named as Höganäs AB.
The outer covering of the building is made up of concrete panels called 'shells'.
Concert Hall has the capacity of 2,679 people. This venue is mostly used by Sydney Symphony Orchestra. It is the biggest venue of Opera House.
Joan Sutherland Theatre has the capacity of 1,507 people. This venue is used by Australian Ballet and Opera Australia.
Drama Theatre has the capacity of 544 people. Sydney Theatre Company uses this venue.
Playhouse has the capacity of 398 people.
Studio has the capacity of 400 people.
Utzon Room has the capacity of 210 people.
Jørn Utzon
In the formal opening of the Opera House, no one called Jørn Utzon to attend the ceremony and his name was also not referred to in the ceremony at all.
It is said that the panel of experts (three judges) who were looking at the various designs of Opera House (during International Competition), rejected the design of Utzon along with other architects. However, a U.S. architect named Eero Saarinen got there in Sydney and was fascinated by the design of Utzon.
In late 1990s, the Trust officials went back to Utzon in an effort to settle the differences and asked his approval for the upcoming restructuring of Opera House. Thus, in 1999, Utzon was taken into service as a consultant.
In order to pay a mark of respect to its real architect, the design of one of the rooms was constructed on the word of Utzon. This room was unveiled in 2004 and was named as "The Utzon Room".
Jørn Utzon passed away in November 2008.
After the death of Utzon, a ceremony was conducted in the Concert Hall of Opera House displaying different performances in March 25, 2009. Lin and Jan (daughter and son of Utzon) were present at this official ceremony.
More Facts
While the Opera House was not completed yet, the artiste who performed for the very first time in the venue was Paul Robeson, a U.S. actor. He showed his performance in 1960.
The first ever performance of playing piano in front of spectators in the Opera House was performed by Romola Enyi. She was an Australian pianist and performed in April 10, 1973 in the Concert Hall.
In 2013, the Opera House marked the 40th birthday. As a result, Sydney New Year's Eve event was held on 31st December (the same year) in this venue.
Each year the House hosts about 1,500 performances.
About 1.2 million persons watch these performances every year.
The Opera House attracts over 7 million tourists every year.
The Opera House is run by a trust made by an Australian government named Sydney Opera House Trust.
Learn about Australia. Read Australia Facts