An American icon of the 20th century, indeed the only person that visibly stands out in the field of entertainment is Walt Disney. He was a cartoonist, animator as well as a producer of motion-picture film. He was an industrialist and set up the second biggest revenue-generating broadcasting company of the world along with his brother Roy Disney: 'The Walt Disney Company'. What's more, he created a number of famous animated characters like Donald Duck, Goofy and Mickey Mouse. He gave his voice to the Mickey Mouse cartoon character. In July 1955, he also built an amusement park in California known as Disneyland.
Full Name: Walter Elias Disney
Date of Birth: December 5, 1901
Place of Birth: Chicago, Illinois (U.S.A.)
Profession: Cartoonist, Animator
Date of Death: December 15, 1966
Age: 65
Reason for Popularity: Founder of Mickey Mouse and Disneyland
Early Years
1.   In 1906, Walt's family travels to a city in Missouri called Marceline. The family stays here for about four years. This is the very city in which he starts portraying pictures and doing works of art.
2.  In 1911, the entire family travels to Kansas City.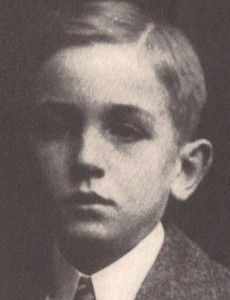 3.   During these years, Walt and his elder brother Roy starts distributing newspapers ('The Kansas City Star' and 'Kansas City Times'). Walt had to wake up at 4:30 am to deliver newspapers and after attending school, he had to pick up where he left off until late at night. Because of the very tiring routine, he used to sleep lightly in his classroom and couldn't do well in his studies.
4.   Walt did this job of distributing newspapers for about six years.
5.   In his school named 'McKinley High School', he develops interest in making cartoons. In particular, he fancies drawing portraits of World War I.
6.  As he reaches 16 years of age, Walt leaves his school because he wants to join army. However since he is under age for joining army, he is rejected.
Later Years
While working with Pesmen-Rubin Art Studio, Disney (Walt Disney) comes across another well-known American cartoonist of his time named 'Ub Iwerks'. Disney and Iwerks jointly create two remarkable animated characters: Mickey Mouse and Oswald Rabbit.
Iwerks and Disney begin their professional career by creating a commercial company known as 'Iwerks-Disney Commercial Artists' in 1920.
Disney finds great interest in animation and forms a business project by the name of 'Laugh-O-Grams'. The first member of staff in this company was Fred Harman.
In October 16, 1923, Disney along with his brother Roy forms a company in Los Angeles (Silver Lake district) known as 'Disney Brothers Cartoon Studio'.
Roy and Disney mutually founded a company known as Walt Disney Productions.
In 1925, Disney gets married to a girl named Lillian Marie Disney. The names of their two daughters are Sharon and Diane.
During 1920s, Disney produces a series of cartoons titled 'Alice Comedies'. The character of Alice in these animated cartoons was played by a U.S. actress named Virginia Davis.
The name of the first cartoon of this series was 'Alice's Day at Sea'. It was released on December 26, 1923. The very first income from this cartoon was $1,500.
The fame of 'Mickey Mouse' grows so much that in November 18, 1932 Disney is awarded Academy Award for this cartoon character.
During early 1930s, Disney produces various animated characters like Donald Duck, Pluto the Pup and Goofy.
In 1938, the U.S. animated feature in which Technicolor was used for the very first time, was launched in February and came to be known as 'Snow White and the Seven Dwarfs'. It was distributed by Radio-Keith-Orpheum Pictures and became the most flourishing feature film the same year.
In 1964, Disney produces a fantasy motion-picture known as Mary Poppins. This film turns out to be the most flourishing film in 60s.
Final Years
Disney used to do 'chain smoking' a lot all the way through his life span. However, he never smoked when kids were round the corner.
Disney at last passes away in December 15, 1966. The cause of his death was lung cancer.
After Disney's death, his corpse was burned to ashes and these remains were laid to rest in Forest Lawn Cemetery of California (Los Angeles).
More Facts
While Disney was active doing work in his studio in Kansas City (named 'Laugh-O-Gram Studio'), he had hired a pet-mouse and over time this mouse had resulted in the creation of Mickey Mouse. Disney had given tone of voice to this animated mouse and also defined its behavior.
Disney was awarded a total of 22 Academy awards.
Among many other nominations and awards, Disney also received seven Emmy Awards.
He got four awards in just one year, which is the highest achievement by any person.