Born in Albania, Mother Teresa lead major portion of her life in India but her services for the poor are spread all over the world. She received many prizes and awards as recognition for her charity institutions and services for humanity. She was also given much deserved Nobel Peace Prize in 1979. Now let's discover more about this wonderful personality in Mother Teresa facts for kids.
Mother Teresa Facts For Kids
Birth Name: Anjezë Gonxhe Bojaxhiu
Common Name: Mother Teresa
Date of Birth: August 26, 1910
Place of Birth: Skopje, Macedonia
Age: 87
Date of Death: September 5, 1997
Place of Death: Calcutta, India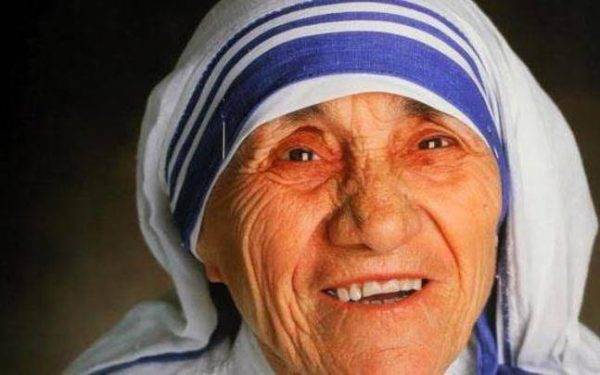 Family
The name of her father was Nikollë Bojaxhiu. He was a businessman.
The name of her mother was Dranafile Bojaxhiu.
Her parents got married in the beginning of 1900s.
She had two siblings namely Aga and Lazar.
She was the youngest of the three kids.
In 1919, her father passed away. She was only 8 at the time.
She was brought up as a Roman Catholic by her mother.
Early Years
While she was just 12 years old, she made up her mind to lead a religious life.
When she was just 18 years old, she went to the Sisters of Loreto and started her life as a missionary. This was the last time when she saw her mother.
In 1929, she went to India and started learning Bengali language in a town known as Darjeeling.
On 24th May 1931, Agnes (Mother Teresa) for the very first time as a holy woman made her religious vows.
In 1944 after serving as a teacher for about 20 years in the Calcutta's Loreto convent school, she eventually became headmistress of that school.
In 1948, she started her teaching as a missionary by having on white 'sari' with blue lines on the sides of it.
In Calcutta in 1952, Mother Teresa built the very first Home for the Dying.
She built a home for those persons who had a disease called Leprosy. This hospice or home was known as Shanti Nagar, which means 'City of Peace'.
In 1955, she built another school for orphans and children who were lost. This home was known as Nirmala Shishu Bhavan.
In 1965, she built the house in Venezuela. It was the very first house that she had made outside India and with the help of 5 sisters.
Final Years and Death
During Siege of Beirut in 1982, she saved 37 kids that were locked in a hospital when Israeli forces attacked Lebanon.
When she went to Rome to meet Pope John Paul II in 1983, Mother Teresa had faced a first severe heart attack.
In 1989, she had a second heart attack. After this attack, she was given a device that artificially controls the heart beat. This medical device is known as Artificial Cardiac Pacemaker.
In 1991 when she came back to her birthplace in Albania for the very first time, she built a home called Missionaries of Charity Brothers.
When she was in Mexico in 1991, she was attacked by pneumonia that made things worse for her heart.
During 1991, she was the person in command of Missionaries of Charity. She wanted to leave her job as the head of the institution but sisters of the order made her to stay.
Once she tumbled in April 1996 and as a result of it, her collar bone (also known as clavicle) was fractured.
In August 1996, she had an attack of malaria. She went through a surgery of her heart.
She finally left her job as the head of Missionaries of Charity on March 13, 1997.
When she died in September 1997 in Calcutta, the Missionaries of Charity with 4,000 sisters was working in 123 countries and running 610 missions all over the world.
More Mother Teresa Facts For Kids
Her birth name is in Albanian language which means 'little flower'.
She was baptized on August 27. Though she was born on August 26 but she always thought her true birthday was on 27th instead of 26th.
She wanted to name herself by the name of Saint Thérèse of Lisieux, 'The Little Flower of Jesus'. However, before she could pick up this name, one of the nuns had already adopted it. Agnes therefore selected a Spanish name for herself calling 'Teresa'.
She knew 5 languages very well. These are Albanian, Hindi, Bengali, Serbo-Croatian and English.
In USA, the first Missionaries of Charity was built in New York in South Bronx.
Until 1996, the missionary work of Mother Teresa had reached to such a great length that at the time there were 517 missions of her that were spread out in over 100 different countries.
Now that, did you really find these Mother Teresa facts for kids helpful? Is it what you're looking for? Please comment and help us improving this article. Thanks for reading it!