Pablo Picasso has long been admired for his remarkable contribution in Art which later becomes the foundation of Modern Art. The Spanish born had been the most colorful painter in the 20th century. Prominent among his works include painting, sculpture, stage design, drawing, ceramics, and writing. The painter dies but the painting doesn't if it is made with the true dedication and passionate heart.
Pablo Picasso Facts For Kids
A Little about Picasso
Picasso has got quite lengthy name. The full name is Pablo Diego José Francisco de Paula Juan Nepomuceno María de los Remedios Cipriano de la Santísima Trinidad Martyr Patricio Clito Ruíz y Picasso.
Picasso was born on October 25, 1881, in Malaga, Spain to an artist family. Don José Ruiz Blasco was the father of Picasso and he was also a painter and teacher.
Doña Maria Picasso y Lopez was the mother of Picasso.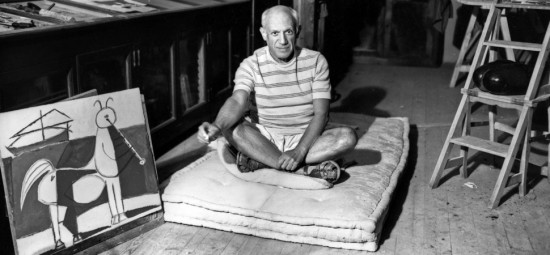 How Did he Spend his Early Life?
Although he was not a very good student at school Picasso nevertheless showed hints of drawing skills at a very young age. He probably inherited his painting skills from his father who used to teach Picasso how to paint when Picasso was only 13 years of age.
Picasso got his admission in the then renowned school of Barcelona, School of Fine Arts. He didn't come of age when he got admission but 14-year-old performed extraordinarily in the entrance test which earned him an admission.
Picasso however was never interested in taking classes and he used to go out to the streets to painting live sceneries.
At the age of 16, frustrated with his classes in the Royal Academy of San Franciso (Madrid), he went out into the streets of Madrid to paint beggars, prostitutes, and gypsies.
Picasso's famous Works in the Blue Period
The beginning of the 20th century was actually the beginning of the Picasso's work of art. When in France he opened his painting studio. This goes on quite successfully from 1901 – 1904. This short period of three years is called Blue Period.
Few months later one of the Picasso's best friend, Carlos Casagemas died which left the painter in a state of grief. As it turns out Picasso began painting the darker sides of society such as poverty. Famous among his paintings in Blue Period are The Old Guitarist, Blue Nude, and La Vie.
The Rose Period started when the Blue Period ended that is on 1905. During the year Pablo fell in love Fernande Oliver who was a gorgeous model. Couple of paintings became famous during the Rose Period which included "Gertrude Stein", "Family at Saltimbanques", and "Two Nudes".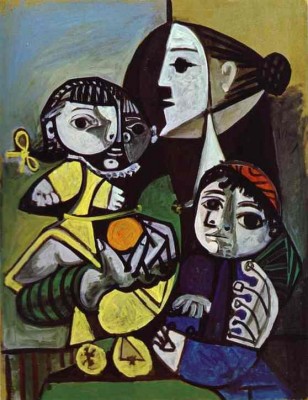 Picasso's Brilliant work of Cubist Painting
During 1907 Pablo Picasso's cubist painting hit the market so hard that it later became the signature painting of Pablo Picasso. Not only did the painting bring out the marvelous talent of the artist it also went into the details which no other painting ever thought to possess. The cubist painting was no other than 'Les Demoiselles d'Avignon', in which Picasso showed five nude prostitutes.
Other cubist paintings of Picasso were 'Girl with Mandolin', 'Three Women', 'Synthetic Cubism', 'Bread and Fruit Dish on a Table', 'Three Musicians', and 'Card Player'.
Works during World War I
Picasso continued to draw painting that could reflect the morals of the society. The Rose Period is followed by the 'Classical Period' which lasted 9 years from 1918 to 1927.
His paintings showed real emotions of the people in WWI. Many of his works came to the fore such as The Pipes of Pan, Three Women at the Spring, and Two Women Running on the Beach.
Surrealist painting of Picasso in 1937 shook the world of Art in one way or another. The painting talked about the Spanish Civil War.
Cool Facts about Picasso
Pablo Picasso won the International Lenin Peace Prize in 1950 and 1961. To the very end of his age Picasso had become the most popular living artist. He died on 8th April 1973 in France.
Picasso produced as many as 50,000 artworks in his long lifespan. Most of them were drawings and ceramics.
The most expensive painting of Picasso is Garcon a la Pipe. It was sold for 104 million U.S. dollars on May 4 2004.
The most important works were Les Demoiselles d'Avignon, Guernica, and The Weeping Woman.
Pablo Picasso was married to Olga Khokhlova from 1918 to 1955. He got married the second time to Jacqueline Roque in 1963. The second marriage ended on Picasso's death.
Learn more: France Facts