Jackie Robinson was an African-American baseball player. He was the first black-American who played in Major League Baseball (MLB). After Bing Cosby, he stood at second position as the most famous personality of US in 1947. In 2002, he was entered in the listing of 100 Greatest African Americans. The Time magazine awarded him in 1999 by enlisting Robinson among the 100 most influential people of the 20th century. Now let's have a look at some other Jackie Robinson facts for kids.
Jackie Robinson Facts For Kids
Date of Birth: January 31, 1919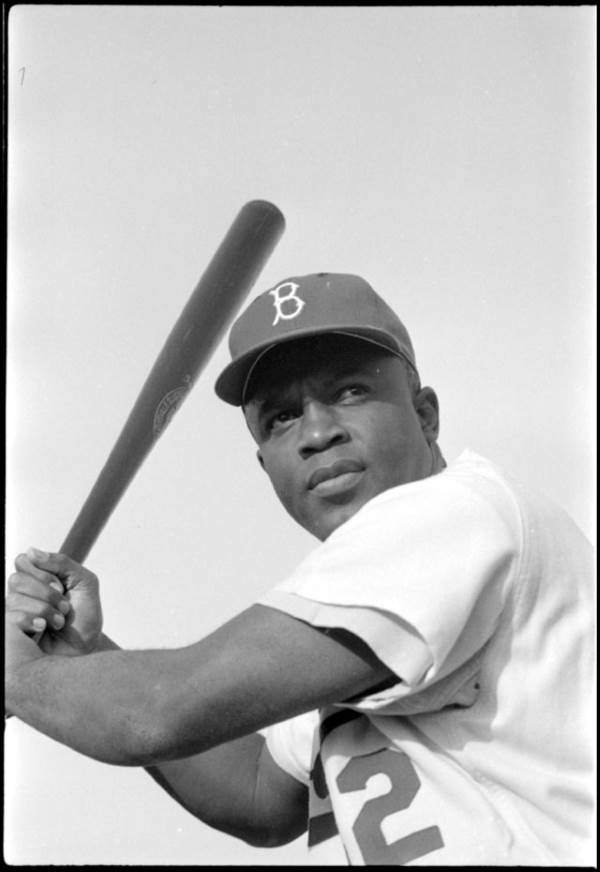 Place of Birth: Cairo (Georgia)
Total Average on Batting: .311
Total Number of Hits: 1,518
Total Stolen Bases: 197
Total Home Runs: 137
Name of Major League Baseball: Brooklyn Dodgers
Date of Death: October 24, 1972
Place of Death: Stamford, Connecticut
Early Life and Family
The names of his parents were Mallie Robinson and Jerry Robinson.
The name of his wife was Rachel Robinson.
He had 4 siblings. He was the youngest of all.
In 1920, the family of Robinson traveled toward the city in California called Pasadena.
He did graduation in Washington Junior High School in 1935.
After Junior High School, he joined John Muir High School.
He played quite a few games in Muir High School namely basketball, baseball, track and football.
In a game of baseball, he used to play catcher as well as shortstop.
In a game of football, he used to play quarterback.
In a game of basketball, he used to play guard.
He achieved quite a number of prizes in broad jump.
He was an affiliate of one of the tennis teams.
In a championship of junior boys, Robinson came first in Pacific Coast Negro Tennis Tournament. It was the annual tournament held in 1936.
After Muir High School, he joined Pasadena Junior College (PJC).
He had 3 kids.
The names of these three children were Jackie Robinson Jr., David and Sharon.
Jackie Robinson Jr. died in a car crash on June 17, 1971. He was just 24 at the time.
Later Years and Death
He was chosen in a baseball team in 1938 for the team named All-Southland Junior College Team. He was also chosen as the Most Valuable Player of the region.
In PJC, he was also a member of the group of students who supervise various actions of school. This group was named Lancers.
He was taken into custody by the police on January 25, 1938.
He completed his graduation from PJC in 1939.
In a team of football of 1939 UCLA Bruins football, Robinson was among 4 African-American players to play for this team.
At UCLA College, he stood first as a sportsperson.
He participated in a Long Jump in 1940, jumped as long as 7.58 meters and came first in the NCAA Men's Outdoor Track and Field Championship.
He signed up for a job as assistant director in National Youth Administration (NYA). It was a governmental organization located in Californian city of Atascadero.
In 1941, he traveled to Honolulu for playing football.
Robinson joined US Army in 1942. He became second lieutenant in 1943.
He was almost court-martialed by not following orders of a bus driver when he told Robinson to go back at the end of the seat. Since he was black, he was not probably allowed to sit at the front with white people but Robinson turned down his order.
He was honorably discharged from military in November 1944.
Robinson received an invitation on playing baseball from Kansas City Monarchs in 1945. The contract offered him 400 dollars per month, which amounts to more than 5,000 dollars of today. He accepted the offer.
Brooklyn Dodgers was the first major league that enrolled black American (Jackie Robinson) for the first time after 1880.
He was the first African-American who played in a minor league against a major league ever since 1880s.
When he was 28 years old, he made a debut for Brooklyn Dodgers in a major league on April 15, 1947 at Ebbets Field.
He was the first baseball player who broke baseball color line, which was drawn in 1880 because of racial segregation.
While playing for Dodgers, Robinson had a batting average of about .297. He played 151 games in total.  He scored 125 runs in 175 hits.
During a period of 9 years between 1947 and 1956, Robinson played 10 seasons for Brooklyn Dodgers.
Major portion of his professional career was spent in playing as second baseman.
Robinson took retirement from baseball on January 5, 1957. He was just 37 at the time.
Robinson died at the age of 53 on October 24, 1972. He died at his own residence in Connecticut.
There were 2,500 people on his funeral service.
He is buried in Cypress Hills Cemetery in New York.
More Jackie Robinson Facts For Kids
His full name is Jack Roosevelt Robinson. The name 'Roosevelt' in the middle of his name was after President Roosevelt. Robinson was born after 25 days from the death of President Roosevelt.
While he was studying at PJC, one of his brothers named Frank Robinson died in an accident when he was riding a bike.
The jersey number of Robinson was 42. This number was withdrawn on April 15, 1997 in Major League Baseball (MLB).
Major League Baseball celebrates April 15 of each year as the Jackie Robinson Day. On this day, all players of the teams put on jersey number 42.
Pee Wee Reese was one of the supporters of Robinson who was against racial segregation. Both were teammates in Dodgers. Reese put his arm around Robinson's when everybody was shouting against Robinson due to his black color.
A statue was made in 2005 by William Behrends showing Reese putting his arm around Robinson. This statue is now in KeySpan Park.