Elvis Presley was an American actor and musician. In the 20th century, he was by far the most important cultural icon who transformed the American culture and music in the 1950s. Scotty Moore was Presley's guitarist and Bill Black his bassist and together they set the tone for rockabilly.
In 1954, he started his music career and the producer who recorded his first song was Sam Phillips of Sun Records. During 50s Presley had struck a deal with RCA Victor and thus the first single launched from RCA was 'Heartbreak Hotel'. This song was released in January 1956 and subsequently became super hit in the U.S. After nine months of his first single-hit, he made his first appearance in a film 'Love Me Tender'. In 1958, he joined the U.S. military through a draft. In 1968, Presley started a United States television special named Elvis. He resumed his live music performances after seven years of interval. That's why this stage performance was called '68 Comeback Special. With the estimated sales of 600 million items around the world, Elvis Presley is the best-selling music solo artist in the history of music. Let's find out more in Elvis Presley facts for kids!
It was Elvis who made rock 'n' roll the international language of pop – Rolling Stone Magazine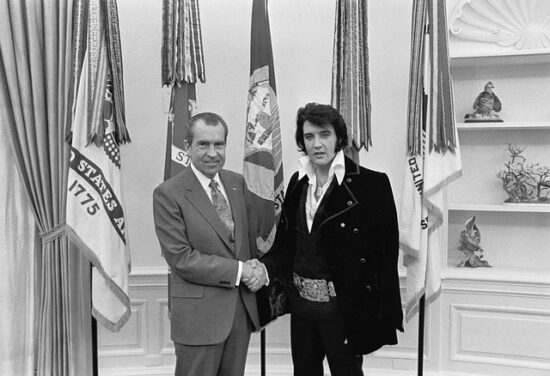 Elvis Presley Family
The ancestral origin of Presley was German, Scottish and Scots-Irish. Even few of them belong to Normans of France.
It is believed that his maternal great-great-grandmother was Native American. Her name was Morning Dove White. She came from a Cherokee tribe.
He was born on January 8, 1935 in Tupelo, Mississippi. After 13 years, his family shifted to Tennessee's Memphis.
Presley was born in a 'shotgun house', a rectangular house made up of two rooms and normally not more than 3.5 metres wide. At the time, it was popular style in Southern United States.
In 1938, Presley's father became guilty of check fraud (known as check kiting) and eventually lost their house. Thus, Vernon (Presley's father) was imprisoned for 8 months.
He was very close to his mother and he got his first inspiration of music from the World Assemblies of God Fellowship, which his parents used to attend.
In order to meet the expenses, Presley's father used to change his jobs quite frequently. However the government and neighbors sometimes took care of the food provisions of Presley's family.
Elvis Presley Childhood
He was one of the identical twins. Presley was born 35 minutes after his brother's stillborn birth.
According to his teachers in 1941, Presley was an average student when he took admission in first grade.
One of his instructors was impressed by Presley's singing abilities when Presley sung an 'Old Shep' song by Red Foley.
While he was just 10 years old, he made his debut in a singing contest held on 3 October, 1945. He put on a dress of cowboy and stood fifth in the competition.
In September 1946, he took admission in a sixth grade in the new school in Milam. He usually preferred to do things on his own.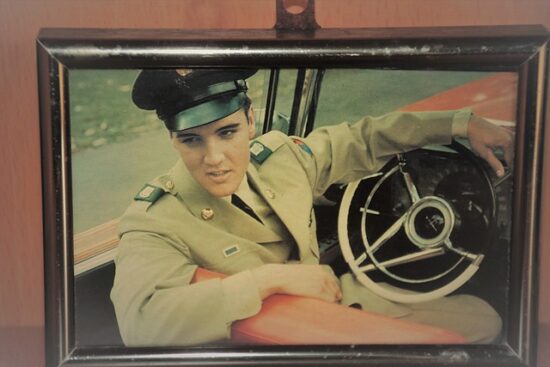 Top 10 Interesting Facts about Elvis Presley | Elvis facts you didn't know
As a birthday present, Presley got his first guitar after few months from his first public performance (10-year-old). It was not a very welcoming gift for Presley because he wanted to have a bicycle or perhaps rifle for his gift.
In his 7th grade, he started playing his guitar during lunchtime in school. However, the kids around him used to laugh at him. They would often call him a 'trashy' child.
He was enrolled in Humes High School in Memphis. In his eighth grade, he got C for his music. For this, Presley was told by his instructor of music,
'You have no aptitude for music'
Presley was a shy kid which was why his mates would call him 'mama's boy'.
He used to give shape to his hair with Vaseline and rose oil.
He never took formal lessons for music. He always played music by ear.
In April 1954, he worked as a truck driver for Crown Electric company.
One of the American guitarists Eddie Bond rejected Presley and instead advised him to continue driving:
"because you're never going to make it as a singer"
He was failed in an audition of a quartet and when his father asked about it, he responded:
"They told me I couldn't sing"
The bodyguards, employees and friends who served Presley during his musical career till his death were nicknamed Memphis Mafia.
Elvis Presley Facts 1950s
His uncles as well as the pastor became his first instructors on learning basic guitar lessons.
I took the guitar, and I watched people, and I learned to play a little bit. But I would never sing in public. I was very shy about it –Presley
In 1950, he took guitar lessons from his neighbor Jesse Lee Denson. Presley was only two and a half years younger than his guitar teacher.
In April 1953, he participated in his high school's show called 'Minstrel' and sung a song 'Till I Waltz Again With You' and became popular afterwards.
In 1953, Presley stepped into the office of Sun Records. When the receptionist asked him about the kind of singer he was, Presley replied:
"I sing all kinds"
The first person to record Presley's songs was Marion Keisker in 1953. These two songs were 'My Happiness' and 'That's When Your Heartaches Begin'. The charges paid by Presley for the recording of these songs were $3.25.
His mother had hepatitis and died of heart failure at the age of 46. Presley was shaken up by this incident because he was very close to her.
On 24 March 1958, Presley was inducted into U.S. army at Fort Chaffee, Arkansas. By this time, Presley had made up his mind that his music career was finished.
Presley learned karate during his stay in the army which helped him a lot during live performances. On 5 March 1960, he was discharged from the army at the rank of sergeant.
Elvis Presley Achievements
During his two-year period in army, he had ten top 40 hits including 'Hard Headed Woman', which turned out to be the best-selling song.
The six singles of Presley were released after his death (1977 – 1981) and became top ten country hits.
He earned five music halls of fame.
In 1987, he earned award of merit from American Music Awards. He also received three Grammy Awards.
In 2005, 17 singles of Presley were reissued and gained top five positions in UK.
For five consecutive years, Forbes called him to be the top-earning deceased superstar. He had a gross income of $45 million.
He staged 168 concerts in 1973 alone, the highest in his career.
Elvis Presley Death
Presley was married to Priscilla Beaulieu on 1 May 1967 at the Las Vegas' Aladdin Hotel. They got separated on 9 October 1973 and this divorce left a deep impact on his life from which he could not recover.
After his divorce, he took overdose of drugs called barbiturate for two times in a year. He was admitted to the hospital at the end of the same year.
Presley had a number of diseases like liver damage, high blood pressure, glaucoma and enlarged colon. All of these diseases were caused by excessive drug abuse.
At one time, he fell onto his knees after coming out of limo.
In his final years, Presley staged a number of disappointed concerts. At times, he could barely talk on stage and even the entire tour had to be canceled when at one time he could not get out of bed in a hotel.
The final concert of Presley was staged at Market Square Arena in Indianapolis on 26 June 1977.
He died on 16 August, 1977 at the age of 42.
Billy Mann was Presley's cousin who took a photo of his deceased superstar secretly. He got $18,000 for this work. This picture became the cover photo of National Enquirer and eventually turned out to be a best-selling issue.
On August 18, his funeral took place at Graceland. He was buried at Forest Hill Cemetery right next to his mother's grave. Almost 80,000 people gathered around at the cemetery.
In August, there was an attempt to steal the corpse of Presley. As a result on October 2, the corpses of his mother as well as his own were moved to the Meditation Garden in Graceland.
Presley had bought an estate in Graceland which was made public in 1982. Afterwards, this site became the second most toured site in the country. In 2006, this site was declared National Historic Landmark.