Located at the southwest region of South America, Colombia hosts people from all over the world and thus, the diversity of cultural heritage is the hallmark of this country. It is also home to one of the most diversified species of flora and fauna in the world. Almost 300,000 species of invertebrates are found in Colombia. It is one of the world's 17 megadiverse countries where a large number of earth species exist. As for works of art in Colombia, it traces its history as far as 3,000 years ago. In 325 BCE, Tumaco people are believed to be the earliest Colombians who made objects from gold. Now let's discover more about it!
Date of Independence: 20 July, 1810
Capital City: Bogotá, D.C
Currency: Colombian Peso
National Bird: Andean condor
National Sport: Tejo
Primary Language: Spanish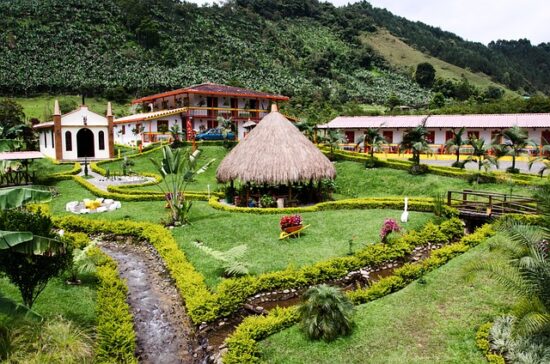 Name
The name of this country has its origins from the surname of Christopher 'Columbus'. A Venezuelan revolutionary called Francisco de Miranda was the first person to come up with this name. In Italian, Columbus was called Cristoforo Colombo.
In 1819, this name was first adopted by 'Great Colombia'. The Great Colombia contained territories of South and Central America. It is also known as Gran Colombia.
In 1861, the 'United States of Colombia' was adopted as its name. It included nine independent states that were carved out from Panama, Colombia (present-day) and northwest Brazil.
In 1886, the name 'Republic of Colombia' was adopted.
READ: Best 5 Bird Cages for Cockatiels
History
Located 100 km to the southwest of the Colombia's capital city, Magdalena Valley is home to the oldest sites of human settlement. The sites of this valley trace back to the periods of Paleoindian i.e. 18,000 to 8,000 BCE.
Another prehistoric site in Colombia is called Puerto Hormiga archaeological site. It is located close to the seashore of Caribbean and dates back to 4,000 to 3,100 BC.
San Jacinto archaeological site of Colombia contains the oldest pottery ever found in the Americas. It dates back to 4,000 to 5,000 BCE.
The indigenous people occupied Colombia by about 10,500 BCE.
The first city to be established firmly by the Spanish conquerors in continental America was Santa María la Antigua del Darién. It is located near Colombia's town, Acandí. In 1510, a Spanish explorer named Vasco Núñez de Balboa founded it.
In 1851, slavery was brought to an end in Colombia.
Interesting Facts about Colombia
Colombia ranks among one of the top 10 greenest countries of the world.
Colombia had the privilege to be the first South American country where government based on constitution was formed.
Colombia is ranked second among the world's most biodiverse countries. The first position is secured by Brazil but Colombia is seven times smaller than Brazil too.
It is ranked third among the most populous Latin American countries. The first two are Brazil and Mexico.
It is also ranked third in the world where biggest number of Spanish speaking people lives. The first two are Mexico and USA.
Colombia ranks third among South America's largest producers of oil.
As for the supply of renewable freshwater, Colombia is ranked sixth in the world.
Flora and Fauna
Colombia is home to 40,000 species of plants. This accounts for 10 percent of plant species in the whole world.
Colombia is ranked number one in the world where largest number of unique species exist i.e. these species are only present in Colombia.
Colombia is home to 1,900 bird species, which accounts for 18 percent of the species of bird around the world. The total number of species found in North America and Europe combined are less than Colombia alone.
About 10 percent of species of mammals live in Colombia.
It is ranked second among countries where a large number of species of freshwater fish and amphibians are found. Colombia contains nearly 2,000 species fish.
It has 7,000 species of beetles.
It is ranked third in the world in terms of species of palm trees as well as reptiles.
More Facts about Colombia
The two highest mountains of this country are Pico Simón Bolívar and Pico Cristóbal Colón. Both peaks have an elevation of about 5,700 metres (18,700 ft). Pico Cristóbal Colón is also ranked fifth among 125 most prominent peaks in the world. The name of this snowcapped-peak was based on the name of Christopher Columbus.
With an elevation of 2,640 metres, Bogotá, D.C ranks third among the highest capital cities of South America.