On November 4th, 2008 American culture would change forever. History was made Barack Hussein Obama, was elected as the first African-American president of the United States. People of all ages & races cheered as an African-American man was elected president of a country known to have a history of racism & prejudice. Barack Obama & the country doubted that he would be elected, he himself even had two speeches ready, one if he won & one if he lost. It wasn't just an achievement for himself, but an achievement for the White house, putting the first African-American family ever, in the "Executive Mansion", another phrase for the White House. Michelle, Malia & Sasha now called 1600 Pennsylvania Avenue, home. We have gathered some really interesting Barack Obama facts for kids that will give your further more in sights about Barack Hussein Obama.
Barack Obama Facts For Kids
Obama's Birthplace
Barack Obama II, was born on August 4, 1961 in Oahu, Hawaii at Kapiolani Maternity & Gynecological Hospital to a Caucasian mother & a Kenyan father; Barack & Ann. The birthplace of Obama would later be questioned. It's been said his birth records are false & corrupted. Obama's parents divorced when he was a young age, his father moved to Kenya where he was killed in a car accident. His mother married a man named Lolo Soetoro, he was a student from the University of Hawaii he then took Barack & his mother Ann to live in Indonesia.
Obama's School and University
Obama went to Saint Francis of Assisi Catholic School in Jakarta, where he learned Catholicism. He also went to Muslim schools in addition to Catholic schools and churches. Ann, his mother, was concerned that he wasn't getting the proper education so she sent him back to Hawaii to study & live with his grandparents. Tamar Dunham his grandmother put him in a prestigious K-12th grades school, Punahou School. After divorcing her husband Ann eventually went back to Hawaii where she majored her studies in cultural anthropology. For field research she eventually went back to Indonesia. Obama attended Occidental College in Los Angeles for 4 semesters & then went to New York to attend Columbia University. He earned his degree in law at the University of Harvard.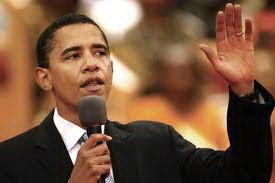 Obama Struggles in his Initial years
Obama went through many shocking encounters & experiences. During his teenage years, he experienced with drugs & alcohol, including marijuana and cocaine. Many of his friends confessed about how he was going through a rough patch in life, and used drugs as a reliever. His grandmother and grandfather didn't approve or believe in the use of drugs, and thus making him frowned upon amongst the inner family. His grandmother Tamar was still very supportive of him. Later in his career he is heard talking about how close he was with her and how he was devastated about her death a day before the presidential election in 2008. His grandparents didn't raise him to be religious. They were both very big none believers.
Growing up in a very diverse state as Hawaii was, there was almost no African American population, and he felt as if he had no one to bond with that saw the world in his eyes. His mother's parents were both white. Wanting to live life in America as a "black man", he knew he couldn't achieve the type of life he thought he wanted to lead if he stayed in Hawaii. In Los Angeles his outlook on life changed he became a Christian & did well in school. Obama went to Chicago meeting Michelle in 1989 at a law firm he was interning at.
There are many interesting facts about Obama that only a few people know. Growing up at a young age he was known as Barry short for Barack. He was also known as O'Bomber in high school for his skill on the school basketball team. His first job was at a Baskin Robbins ice cream store, after working there he hates the taste of any kind of ice cream. He has a terrible addiction to cigarettes, but tries to battle it with nicotine gum. Ann Dunham passed away in 1989. His favorite snacks are chocolate-peanut protein bars. He loves to collect comic books & likes ready Moby Dick. He speaks Spanish & Indonesian.
Obama and Michelle went on a first date to go see Spike Lee's movie "Do the Right Thing". He went to go back to Kenya to get in touch with his Muslim culture, he has statue of a hand holding an egg symbolizing the fragility of life. Before he met Michelle he dated plenty of white women, he told his white girlfriend that he couldn't marry a white girl because he knew if he wanted to have a career in politics he had to marry a black woman.
The Black Student's Union of Occidental College was a major part in the development of Obama's views of "black America". He donates $25000 a year to the Negro College. He is responsible for the murder for Osama Bin Laden, the United States' national enemy. At the 2002 Democratic Convention he wasn't allowed in due to suspicion. He has two Grammy awards for his voice overs.
Barack Obama Facts For Kids – Before Being a President
Obama graduated from Columbia University in 1983 with a major in political science, then he went to go work as an advocate for poor people in Chicago, also he was a community organizer for a Catholic charitable organization also in Chicago. After working with the poor and needy, he went to Harvard Law School to get a law degree where he obtained his law degree graduating with academic honors. After having experience with law from being an attorney at a law firm, he became a Civil Rights lawyer, then he became a professor of law at the University of Chicago. During all this time in Chicago he was spending a lot of time socializing and dating with Michelle Obama, then known as Michelle Robinson. Obama was the first black president of the Harvard Law Review, this is where he got the ideals to become the senator of Illinois and the president of the United States. Before getting into politics he was a bestselling author. Fun fact unknown about him was that he was able to do all of this while still smoking marijuana.
Barrack Obama Facts for Kids – As a President
Throughout Barack Obama's presidential career he has had his achievements and his failures. The United States' had problems with health care & the economy before Obama came into office. His major reforms include:
Health Care Reform
Creating universal health insurance
He ended the war between the United States and Iraq
Slowed down the war in Afghanistan
Changed the economy by recapitalizing banks
Eliminated Moammar Gaddafi
Improved college fun for low income students
Passed a economic stimulus package
Won a Noble Peace Prize in 2009 for his "extraordinary efforts to strengthen international diplomacy and cooperation between peoples."
Provided more coverage for children's health insurance; improved relations between many countries abroad
Made the United States more fuel efficient
Provided jobs for veterans from Iraq and Afghanistan after signing the Veterans Skills Jobs Act on July 12, 2012
Appointed the first female Latina woman to the U.S Supreme Court, making history
Stopped the making of the F-22 which cost over $38 million dollars to make
Provided more protection for wilderness and watershed
Invested in renewable resources and technology
Improved school meals and nutrition
He got rid of former president George Bush's torture policies
Gave equal opportunity to Native Americans to have a say and a metaphorical seat in politics
Changed the United States' budget.
These are just some of the things that he has accomplished while spending time in the White House. Barack Obama led a very unusual life from what you would expect from a United States politician.
Do you know any thing more about Barack Obama? Share it with us in the comments below. Share these Barack Obama Facts For Kids with your friends and family.