Kenya is arguably one of the most well-known countries in the world. The country is rich in mountains, deserts, forests, coastlines, along with the huge Lake Victoria and Rift Valley. It stands as one of the major tourist resorts in Africa. It is home to many different wildlife species. Kenya lies in the middle of eastern coast of Africa. It is almost the size of Texas, the U.S. State and it is also the most developed countries of Africa. The country has got a significant place in the history of Africa as it had played its part in the struggle for independence.
Kenya Facts For Kids
Introduction
Official Name: Republic of Kenya (Jamhuri ya Kenya)
Official Language: Swahili-English
Capital City: Nairobi
Nickname: Cradle of Mankind
Location: Eastern Africa
Currency: Shilling
Motto: Let us all pull together
History
Kenya has a fairly rich history as the land offered many fossils that are million years old. On August 2004, scientists discovered Giant Crocodile fossils which were 200 million years old.
Some other findings suggest that primates had started living around 20 million years ago.
The hunter-gatherers were the first people to have lived in Kenya.
Around 500 BC, Nilotic people had migrated from southern Sudan to Kenya.
Bantu-people had also showed themselves in Kenya in the first millennium. They introduced many agricultural developments in the country.
Omani Arabs had rules the Swahili in the 17th century.
In 1930s around 30,000 white people had settled in Kenya and they played a significant role in the country's economy.
Kenya emerged as an independent nation on Dec 12 1963.
Geography & Size
The total land area of Kenya is 581,309 sq. kilometers.
The total population is 44,037,656 as of 2013.
Kenyan border touches Tanzania to the south, Sudan to the northwest, Ethiopia to the north, Uganda to the west, and Somalia to the northeast.
About three fifths of the total land area is desert which is too hot to sustain a population.
About two fifths receive plenty of rainfall and thus have a mild climate.
Kenya is divided into four different geographical regions.
It has five agricultural and climatic zones.
Kenya has a low-lying fertile and hot coast.
The Kenyan coast mixes into the eastern highland which is mostly semi-arid and it runs many hundred miles.
The north and north-west part of the country is almost entirely desert or semi-desert.
Kenya's land is not suitable for agriculture as less than 20% of land serves for agricultural purposes. About 10% is partially agricultural while the remaining 70% is complete desert and semi-desert.
The highland plateau that lies at the southwest of Kenya contains two major mountain ranges—the Mau Escarpment and the Aberdares Range. These two ranges stand 10,000 to 11,000 feet (3,048 to 3,353 meters) in height.
The Great Rift Valley rises to more than 6,000 feet (1,829 meters) above sea level at Lake Naivasha.
Mount Kenya is the highest peak of Kenya. It has the height of 17,058 feet (5,199 meters). Mount Kenya is one of the highest mountains in Africa—second only to Mount Kilimanjaro.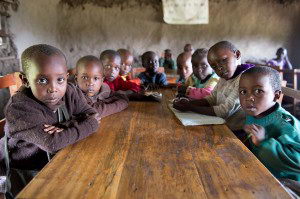 People
The late 1990s and early 2000s saw the worst of Kenya as in these years the country underwent ethnic violence leading to hundreds of deaths.
About 83% of Kenyans are Christians.
The country has got the highest number of Quakers in the world with over 133,000 members.
In Kenya the most popular musical instrument is 'guitar'.
Kenya was declared the most successful nation in Africa in 2008 Olympics.
Rivers, Lakes and Climate
Tana River is the longest river in Kenya and it runs 440 miles on the eastern edge of Rift Valley.
Lake Victoria in Kenya is the second largest lake in the world. It has a length of 250 miles (402 km) along with the width of 200 miles (322 km). Lake Victoria is 265 feet deep at its deepest point.
The average temperature along the coast measures around 69o F to 90o F all year-round.
The temperature near Nairobi averages 45o F to 80o F. It depends on the time of day. The temperature changes too frequently in between afternoon and evening.
Kenya is an agricultural country so the amount of rainfall affects the country's economy. It receives long showers from April to June while in October and December the rainfall is fairly low. The rest of the months experience little or no rain and January, February, August, and September are the driest months of Kenya.
Kenya experiences rainy season almost every year. The northern region of Kenya receives very little rain while the central, coastal, and western parts receive more than 40-inch of rainfall each year.
Flora
About two-thirds of southern Kenya contains thousands of cultivated and wild flowers.
On the coast, plants are mostly lush green, diverse, and tropical.
On the coast of Indian Ocean trees like teak and sandal-wood are grown. Coconut palms and dense mangrove forests are also grown near Indian Ocean.
The coastal vegetation also consists of thorny scrubs, acacia, baobab, and other kinds of thorn trees.
Those areas which receive greater rainfall are likely to have sprouts of giant bamboo.
Flowering trees are found in the south central highlands near Nairobi. Jacaranda is one such tall flower-tree which grows in springtime. Similarly, Bougainvillae in this part of Kenya can be as big as 16 feet (5 m).
Giant lobelias and groundsels are fairly common in the west at higher altitudes.
Dense forests of deciduous and pine trees are found at an altitude of 6,000 feet (1,829 m).
Fauna
Kenya is rich in varied wildlife and authorities have established several game parks to make sure animals enjoy their natural habitats.
Kenya is the habitat of many large mammals such as giraffes, elephants, rhinoceroses, and buffaloes—these animals roam around in large numbers. Apart from large mammals many other antelopes like zebras, impalas, hartebeests, wildebeests, and gazelles also live in Kenya.
As far as beasts of prey are concerned lions, leopards, hyenas, wild dogs, cheetahs, and jackals form the rest of animal kingdom in Kenya.
In the highland plains and forestlands, small animals like tree hyraxes and monkeys are found.
Humans have long hunted elephants and rhinoceroses for ivory horns and tusks.
The country is also a place for many birds including ostriches, kites, eagles, and vultures. Pelicans, ibis, cranes, flamingos, and egrets swim in the coastal waters and lakeshores. The southern Kenya is covered two-thirds by different colored parakeets songbirds and parrots.
Kenya is also home to many large and poisonous reptiles. Crocodiles are fairly common in this part of the world.
The largest member of the stork family, Marabou is also found in Kenya.
Do you know: How Fast Can A Cheetah Run
Did You Know…? Kenya Facts For Kids
The population of Kenya was 8.6 million at independence which is less than one-quarter of its population of today.
Jomo Kenyatta was the founding father and the first president of Kenya.
Kenya heavily relies on tourism industry for revenue generation.
Most of the Kenya's population is young as 73% of Kenyans aged below 30 years.
In 1858, John Hanning Speke discovered Lake Victoria as he was searching the source of River Nile. Speke named the lake after Queen Victoria. Previously the lake was called Ukerewe.