Canberra is the capital city of Australia. As for the country's capital, there was a competition between Australia's two biggest cities i.e. Melbourne and Sydney but Canberra was subsequently chosen in 1908. Canberra is unique because it is a planned city of Australia just like Washington, D.C. Each year the second Monday of March is a public holiday in Canberra in order to mark the official naming of Canberra. This holiday is known as Canberra Day. Apart from English, the other languages spoken by different inhabitants include Spanish, Italian, Mandarin, Cantonese and Vietnamese. Now let's explore more about this wonderful Australian city!
Nickname: Bush Capital
Significance: Capital city
Status: Largest city of Australia (Population-wise)
Formed: March 12, 1913
Origin and Brief History
According to archaeologists, the city was colonized for the very first time by humans in about 21,000 years back.
The city derives its name from the word 'Kambera'. Kambera is a word of an extinct language called Gundungurra and it was spoken by the aboriginals of Australia. It means 'meeting place'.
The other aboriginals of Canberra are Ngarigo, Wandandian, Walgulu, gandangara and Wiradjuri. But one group of people having great influence in this city are Ngunwal people.
In 1820s, the Europeans came here.
In March 1913, the city was officially named by a British woman named Gertrude Mary Denman (also known as Trudie). She was also the wife of Australian Governor-General Lord Denman.
Geography and Climate
It is situated near an Australian mountain range called The Brindabellas.
The city has an elevation of about 1,900 feet (580 meters).
The highest point of Canberra is Mount Majura. The elevation of this mountain is about 2,920 feet (890 meters).
The highest temperature ever recorded in this city is 42.2°C (108.0°F). It was occurred in February 1968.
The lowest temperature of this city is −10.0°C (14.0°F). It occurred in July 1971.
The name of the architect who designed Canberra is Walter Burley Griffin. He was an American architect.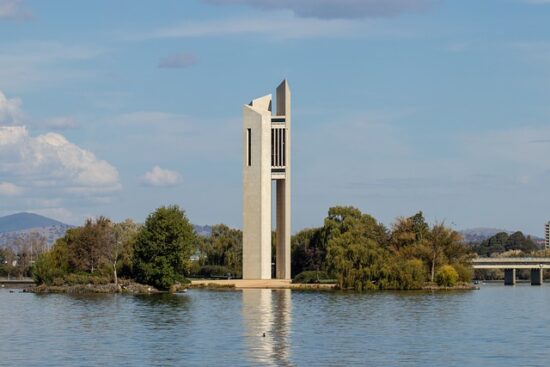 Interesting Facts about Canberra
It is the biggest inland city of Australia.
It ranks eighth in Australia in terms of population.
A person who lives in this city is known as 'Canberran'.
St John the Baptist Church is the oldest structure of Canberra.
The last time Canberra had a snowfall was in 1968.
Almost 75 percent of the waste generated in this city is recycled.
About 28.6 percent of the inhabitants of Canberra were born in other countries.
Just about 10.7 percent of the Canberrans is above 65 years of age.
About 45 percent of the Canberrans have undergraduate academic degree.
About 29 percent of the residents claim to have no religion at all.
About 40.6 percent of the students in Canberra study from private schools which mean the highest percentage of such students in the entire continent.
One of the largest and most famous music festivals of this city was called Stone Day. It was celebrated every year at University of Canberra.
The Japanese city of Nara and Beijing (China) both have a sister-city relationship with this city.
Every day, an average Canberran walks for about 26 minutes.
The city has a highest number of cyclists in the whole country. About 87,000 Canberrans ride a bicycle.
About 88 percent of Canberrans have access to home computer which it the highest percentage in Australia.
About 74 percentage of residents have broadband internet connection which is also the country's highest.
Read: Australia Facts for Kids