Located at the heart of continental part of Southeast Asia, Thailand was previously known as Siam which means dark or brown. It shares borders with Laos, Cambodia, Myanmar, Gulf of Thailand and Malaysia. On 20 May 2014, the military of Thailand declared Martial Law and since then it has been ruled under National Council for Peace and Order. The head of Thailans is a monarch called King Bhumibol Adulyadej. He became king in 1946 as the ninth among the monarchs of Chakri Dynasty. Bangkok is the largest city of Thailand. The economy of the country is largely based on tourism and agriculture. It is also known for playing golf which is why Thailand is sometimes called 'golf capital of Asia'. Let's dive down more in Thailand facts for kids!
A Quick Guide to Thailand Facts for Kids
Ancient Name: Siam
Capital City: Bangkok
Official Language: Thai
Highest Point (Doi Inthanon): 2,565 metres (8,415 feet)
Religion: Theravada Buddhism
Staple Cuisine: Rice (esp. Jasmine variety rice)
Signature Sport: Thai Boxing (Muay Thai)
Fascinating Thailand Facts for Kids | Thailand History
Thailand was adopted as a name in 1939. By that time, it was known as Siam.
The residents of this country have known it by the name of Mueang Thai.
In the Thai language, the term 'Thai' means 'free man'. It is also believed that this word was traditionally used to mean 'the people'.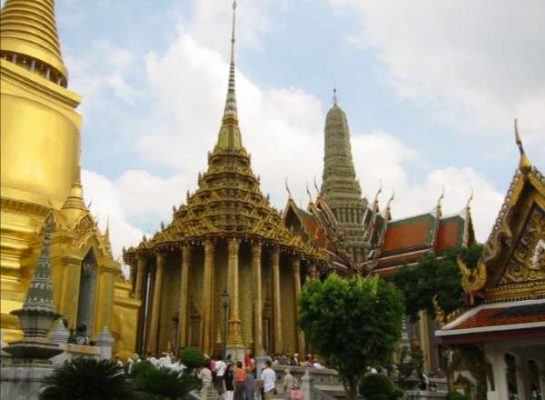 The earliest human settlement on this country dates back to 40,000 years before.
From the Kingdom of Funan to the first century C.E. until the Khmer Empire, the country has had a great influence of Indian cultures and religions.
During the period of Ashoka of Maurya Empire, the religion of India must have been brought to this country.
At the fall of Khmer Empire until 15th century, some of the kingdoms of Buddhist Tai people began to emerge like Sukhothai, Lan Xang and Lanna.
A quarter to a third of the population of some areas of Thailand and Burma were slaves in the 17th through the 19th centuries – Encyclopaedia Britannica
The largest temple of Thailand is known as Prasat Phimai. It was built during Khmer Empire.
From 1932 to 1973, Thailand was ruled by military dictators for the most part.
Thailand Facts for Tourists
It has a population of 66 million.
About 95 percent of the people in Thailand are ethnically Tai.
It has a tropical wet and dry climate. The temperatures vary annually on an average high temperature of 38 °C (100.4 °F) and as low as 19 °C (66.2 °F).
Those people who have Chinese origin make up 40 percent of the country's population. The remaining population comprises Thai Malays, Mons and Khmers.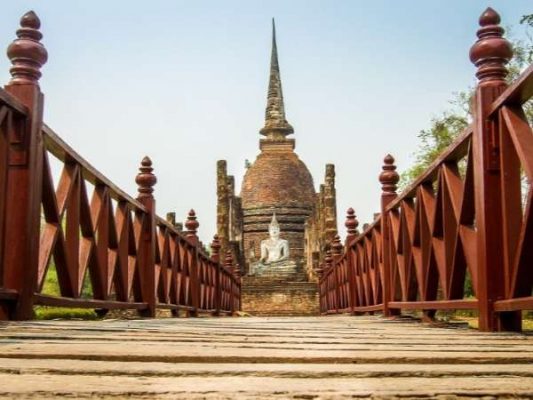 Thailand Facts and Information for Kids
The king of Thailand is the only monarch in the world who has reigned his country for the longest term.
By governing his country for almost 70 years, the king of Thailand has the longest term as head of state in the world.
In terms of production of coal, it is the second largest coal producer of Southeast Asia behind only Indonesia.
Among the countries of Southeast Asia, Thailand is the second biggest importer of oil.
After USA, Thailand is ranked second in the world among the largest consumers of pick-up trucks.
As for proficiency of English, Thailand is the second-lowest among the countries in Asia.
After Indonesia, it has the second largest economy of Southeast Asian countries.
In terms of quality of life, Thailand is ranked third in the list of ten countries of ASEAN.
In terms of GDP per capita, Thailand is ranked 4th among the wealthy nations of Southeast Asia.
It stands at the 20th position among the world's most populous countries.
As per area-wise, Thailand is ranked 51 among the largest countries in the world. It is larger than Spain by a small margin.
Thailand is the only country of Southeast Asia that was never colonized by the Europeans.
Until 1932, the laws of the country were made by the monarch. There was no body of persons who could make new laws.
The first constitution of the country was drafted in 1997 and it is known as 'people's constitution'.
Elephant is the national symbol of this country. Until 1850, Thailand was home to 100,000 elephants but today there are only 2,000.
During 1985 to 1996, the economic growth rate of Thailand stood at an average of 12.4 percent, which was the highest in the world.
The automotive industry of this country is the biggest in Southeast Asia. It is also ranked 9th in the world (2012).
In 2013, it was the most visited Southeast Asian country (World Tourism Organization).
For a long time, Thailand was the world's largest exporter of rice. Rice is cultivated in about 55 percent of the arable land area in this country.
About two-thirds of the GDP earnings of Thailand come through exports.
In 1980, 70 percent of the workforce in Thailand was employed in agriculture. Today it is reduced to 49 percent.
Natural gas accounts for 75 percent of the electricity generation in this country. (2014)